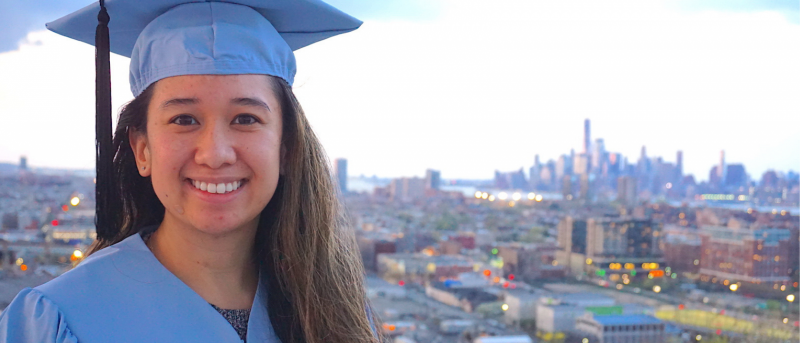 Nurse Anesthesia Student Spotlight: Nicole Ramirez
Nurse Anesthesia Program '21
The pandemic has shown me that my calling to be a nurse was the best decision I could ever make.
At the peak of the pandemic, Nicole Ramirez returned to work as an intensive care unit nurse. She plans to continue studying for her Doctor of Nursing Practice (DNP) while working as a certified registered nurse anesthetist (CRNA). Ramirez received a 2020 – 2021 Graduate Nursing Scholarship from Nurses Educational Funds, Inc.
Please tell us a little bit about yourself—where are you originally from, and what do you like to do in your spare time? 
I am originally from New York, born and raised in Queens from a Filipino and Puerto Rican family background. I love to do yoga during the week to help me keep grounded and balance out my busy schedule with clinicals and schoolwork. 
Why did you decide to pursue nursing and why did you choose Columbia Nursing?
I decided to pursue nursing because I always had a passion to be in health care and to help people. I chose Columbia to pursue my MSN for anesthesia because of the renowned educational resources, available clinical sites, and beautiful simulation lab. Columbia impressively has relationships with the many major hospitals in New York City and beyond the tri-state area. 
How has the pandemic shaped your feelings about becoming a nurse?
The pandemic has shown me that my calling to be a nurse was the best decision I could ever make. This was the time in my life when I was the most proud to be a part of the nursing profession. I went back to the ICU to work as a nurse and help during the height of the pandemic, and it was so humbling and inspiring to see how teamwork made the impossible, possible. 
What's your next step after you graduate? 
My next step after graduation is to continue pursuing my advanced degree for my DNP and gather more learning experiences in my first career job as a CRNA. Eventually, I would like to return to education in a leadership role to help the next generations of nurse anesthesia students.  
Do you have a favorite memory of your time at Columbia Nursing?
One of my favorite times at Columbia was welcome week! I cannot believe how much time has passed since then. That time was so exciting and invigorating. We all met our fellow classmates and got the opportunity to enjoy the city and go on a sunset boat cruise as part of Columbia Nursing's welcome week.