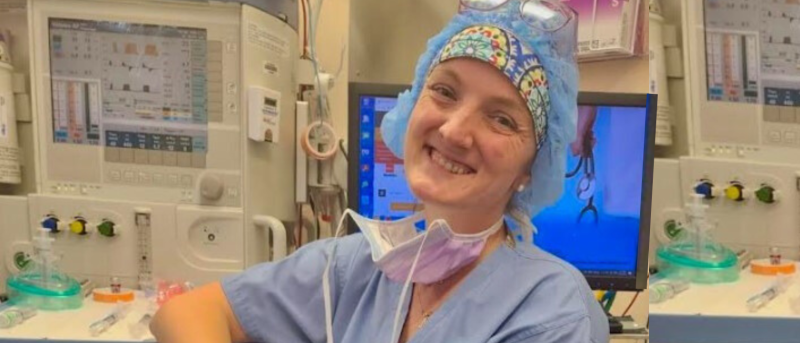 Nurse Anesthesia Student Profile: Noelle Zinn
I have realized throughout my clinical education that growth comes with challenges and experience, and I cannot wait to welcome both of these with open arms....My time at Columbia University has ignited a part of me that never wants to stop learning. 
Please tell us a bit about yourself; where are you from, and what do you like to do in your spare time? 
I grew up in Freeport, NY; I will always be a Long Island girl at heart. I went to the University at Buffalo and graduated with my BSN in 2013. After graduating I worked at North Shore University Hospital on a med/surg telemetry floor. In 2017 I pursued travel nursing, working in various hospitals in NYC and California. I loved my experience as a travel RN but took a permanent position at NewYork-Presbyterian/Weill Cornell Medical Center in the surgical/trauma ICU in 2018, where I fell in love with taking care of the critically ill.  
Taking care of others taught me how important it is to take care of yourself too. During my spare time, yoga really allows me to recenter myself. It has gotten me through many obstacles in my life. I also love spending time with my family; I have two nephews and a niece who light up my life. Traveling and immersing myself in different cultures is a passion of mine as well. I have been all over, and Southeast Asia remains my favorite part of the world. I am planning to travel to Argentina after I complete my degree!   
Why did you decide to pursue nursing, and why did you choose Columbia? 
I decided to become a nurse after having emergency surgery when I was 17 years old. I remember how anxious I was being rolled into the OR. The two people that made me feel the safest were the anesthesiologist and the RN. When I woke up from surgery I remember crying hysterically and the RN giving me her personal cellphone so I could call my family. From that day on I knew I wanted to make someone else feel that safe in such a vulnerable state, and so I decided to become an RN. I had no idea what a wonderful and rewarding career I was going to be a part of. During my time in the ICU, I was introduced to the career path of becoming a certified registered nurse anesthetist (CRNA). I admired the knowledge, diligence, and autonomy the CRNAs I worked with radiated, especially during the COVID-19 pandemic. CRNAs served throughout the hospital and were essential for caring for the sickest of patients.  
If I told my 17-year-old self that I was currently pursuing my master's degree in nurse anesthesia at Columbia University, I do not think she would believe me. While I was deciding which nurse anesthesia programs to apply to, I had always heard amazing things about Columbia Nursing. After doing my own research I was truly inspired by the outstanding faculty and leaders of the nurse anesthesia program. After my interview with the faculty, I knew I would have the potential to become a strong, resilient, and competent CRNA with their guidance. I remember when the program director, Dr. Maribeth Massie called me to tell me I got into the program, I started crying tears of joy. It was one of the best moments of my life.  
What are you passionate about, and how has been a student at Columbia Nursing allowed you to follow that passion? 
I am passionate about being the best provider I can be for my patients. I had always strived to be an excellent patient advocate during my time as a staff RN and now I am beyond grateful to become a patient advocate at the head of the bed. I value treating every patient as if they were my own family member. I love working with an interdisciplinary team in the perioperative setting to ensure our patients are being provided collaborative quality care. While at Columbia University, I have learned with clinicians from over New York City, Long Island, and even Baltimore, MD. All have had an impact in making me the provider I inspire to be. My time at Columbia University has ignited a part of me that never wants to stop learning.  
Do you have a favorite memory of your time at Columbia Nursing? 
Anytime my cohort and I get together to celebrate a milestone in our program. The group of individuals that I have gotten to know over the past two years are some of the most incredible, diverse, and resilient people I have met in my adult life. I could not have made it through this challenging and rewarding journey without them by my side. I have made friendships that I hope will last a lifetime. Also, a core memory was volunteering in Guayaquil, Ecuador, with Blanca's House, to provide anesthesia to 41 surgical patients. The sense of gratitude I had during this experience was life-changing.   
What are your next steps after graduation? 
I am beyond honored to have accepted a CRNA position at Bellevue Hospital. I am excited to continue to grow alongside the providers I will be collaborating with and the patients I will care for. I have realized throughout my clinical education that growth comes with challenges and experience, and I cannot wait to welcome both of these with open arms. I plan to return for my DNP in order to give back to the community that has shaped me by becoming an educator. The past two semesters I have worked as an academic coach for the students in the Nurse Anesthesia Cohort of 2025, and love helping them to succeed in their studies. I cannot wait to see what the future holds.