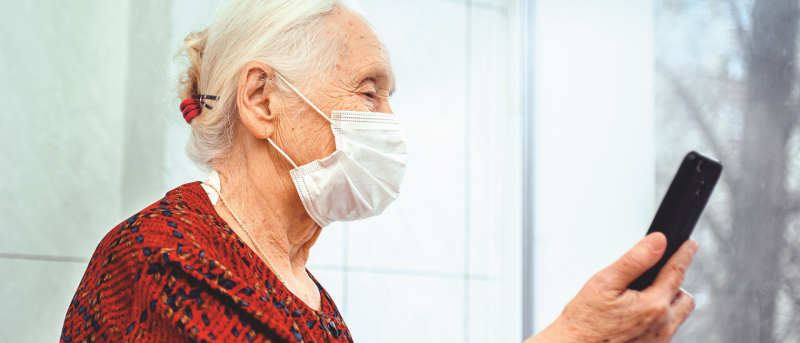 Nursing Home Telehealth Use Jumps After Regulations Are Relaxed in Response to COVID-19
Nursing homes' use of telehealth increased more than elevenfold after Medicare eased rules and regulations on virtual care, according to new findings from Columbia Nursing.
Gregory Alexander, PhD, a professor of nursing, and his colleagues say the relaxation of federal telehealth rules should continue in order to help nursing home residents stay socially connected, preserve limited resources such as personal protective equipment, and allow for the delivery of timely care while maintaining social distancing.
On March 6, 2020, in response to the pandemic, Medicare loosened its rules to allow providers to deliver more services through telehealth. Alexander and his colleagues hypothesized that this change would lead to an increase in nursing homes' use of virtual health-care delivery. To investigate, they surveyed 664 U.S. nursing homes from January to August, giving each facility a cumulative score for telehealth use. While 16% didn't use telehealth at all, 5% reported maximum use, and 79% reported partial telehealth implementation.
After Medicare authorized expanded telehealth use, the researchers found, nursing homes employed virtual health-care applications in patient evaluations 11.24 times more than they had before the rule change.
"Without a vaccine and electronic connections to the outside world, nursing home residents could spend weeks, months, or even years in a facility without visitors other than regular staff," Alexander and his co-authors write. "This could have a profound effect on resident outcomes including depression rates, mobility, etc. One solution is to encourage the proliferation of telehealth with continued relaxed regulations."
Alexander's co-authors on the study, titled "An Evaluation of Telehealth Expansion in U.S. Nursing Homes," are Kimberly Powell, PhD, of the University of Missouri Sinclair School of Nursing, and Chelsea Deroche, PhD, of the University of Missouri School of Medicine.
The study was published online Nov. 20, 2020, in the Journal of the American Medical Informatics Association.
---
This article originally appeared in the Spring 2021 issue of Columbia Nursing Magazine.