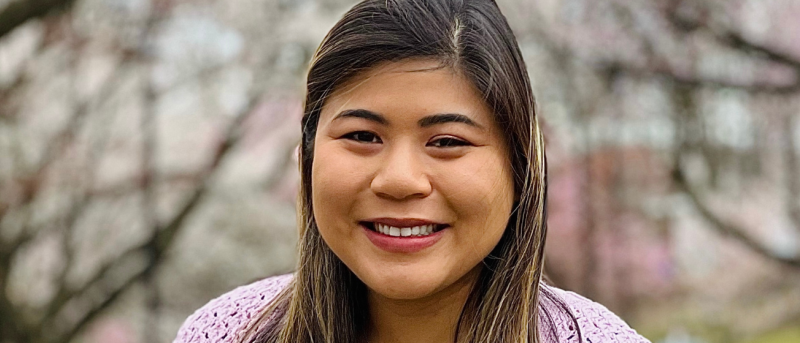 PhD Student Spotlight: April Ancheta
The foundational knowledge I have gained at Columbia has enabled me to become a better scientist and more informed individual.
Please tell us a bit about yourself; where are you from, and what do you like to do in your spare time? 
I was born and raised in New Jersey and attended undergraduate nursing school at Rutgers University. So I am New Jersey through and through, although, of course, I love New York City. I love making people laugh, consuming anything queer pop culture, and listening to music and my eclectic mix of fun/educational podcasts. 
Why did you decide to pursue nursing, and why did you choose Columbia? 
I chose nursing because I knew I could make a difference—whether with individual patients, similar to my prior work at the bedside, or at the population level, with my PhD education. Columbia Nursing's strong LGBTQ training for researchers and clinicians, and the presence of experts from whom I could learn so much about LGBTQ health disparities and interventions to address them, made Columbia the school for me. 
What are you passionate about, and how has being a student at Columbia Nursing allowed you to follow that passion? 
I am extremely passionate about social justice issues, striving to achieve health equity, empowering and strengthening communities, and being informed and engaged politically—because it's so important. As a hub for the exchange of these ideas, Columbia Nursing has allowed me to follow these passions. I am interested in weight and victimization disparities experienced by LGBTQ youth and how targeted school policies can help reduce these disparities. The foundational knowledge I have gained at Columbia has enabled me to become a better scientist and more informed individual. I am also passionate about education, and I am very grateful to have participated in many stimulating seminars offered by Columbia University's Center for Teaching and Learning. 
Do you have a favorite memory of your time at Columbia Nursing? 
I've always really cherished all the moments my PhD cohort has been able to enjoy each other's company in person, from hanging out at our computer workstations, to celebrating the end of another semester along the benches overlooking the George Washington Bridge, to meeting and presenting with each other at professional conferences. My time has been made extra special by the people I've met, and I've made lifelong friends through the program.  
How has the pandemic affected your experience as a nursing student, and your feelings about being a nurse? 
As a PhD nursing student, the pandemic has not only affected me, but also the larger academic community, in so many ways. I think we've all learned how to navigate collaborations over Zoom, conduct research remotely, acknowledge our contributions, and keep each other motivated and inspired. I think all health professionals have realized the importance and power of nurses and our hard work. I'm glad that the pandemic has highlighted the critical work we do at the bedside, in the lab, in patient homes, and at clinics and schools. At the same time, the nursing profession has learned some essential lessons from organizing and sharing our stories, and I'm energized to see how we can leverage the public's greater appreciation for our work to improve working conditions for ourselves in all settings. 
What are your next steps after graduation? 
After graduation, I'm excited to continue my training as a postdoctoral research fellow at the University of Pennsylvania through the National Clinician Scholars Program. I will also continue training through the Children's Hospital of Philadelphia's Postdoctoral Research Fellowship for Academic Diversity. I plan on developing stronger health policy analysis skills and continuing to work with researchers and clinicians who are just as passionate about LGBTQ adolescent health and school wellness as I am.