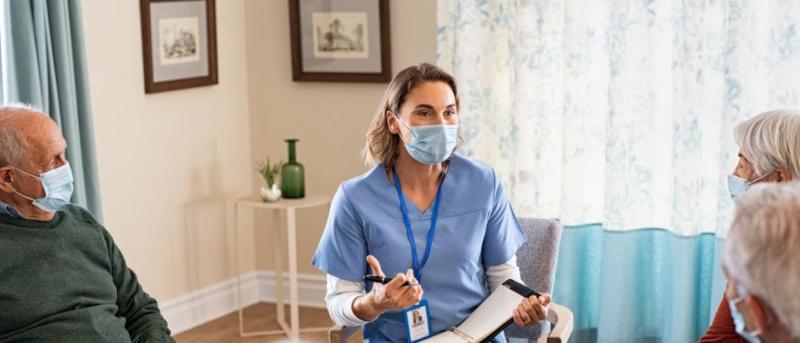 Seven Essential Elements to Reform Nursing Home Care
Academies panel urges rapid action to reform 'broken' system
On April 6, 2022, the National Academies of Science, Engineering, and Medicine released "The National Imperative to Improve Nursing Home Quality: Honoring Our Commitment to Residents, Families, and Staff," which examined how the nation delivers, regulates, finances, and measures the quality of nursing home care. 
Columbia Nursing's Center for Health Policy, Center for Improving Palliative Care in Vulnerable Adults with Multiple Chronic Conditions, and Office of Development and Alumni Relations sponsored a discussion featuring several of the report's authors on April 13, 2022. The event was titled "Policy Dialogue for the Future of Nursing Home Quality." 
Patricia Stone, PhD, the Centennial Professor of Health Policy and director of Columbia Nursing's Center for Health Policy, welcomed panelists and attendees to the virtual event, and Robert Weech-Maldonado, PhD, a professor and the L.R. Jordan Chair of Health Administration at the University of Alabama at Birmingham, served as moderator.  
Betty Ferrell, PhD, a professor and director of nursing research and education at City of Hope Medical Center in Duarte, California, provided an overview of the report's seven core goals/recommendations. She chaired the committee that authored the report. 
The panelists then covered each goal in more detail and presented the committee's recommendations. 
Goal 1: Comprehensive, Person-Centered, Equitable Care 
"While person-centered care is foundational to the basic requirements specified in existing federal regulations, such care is not yet a reality for many nursing home residents," said Colleen Galambos, PhD, the Helen Bader Chair of Applied Gerontology at the University of Wisconsin-Milwaukee's Helen Bader School of Social Welfare. "A focus on care delivery that respects the resident's voice and diversity, care that is equitable and strives for the best and most attainable quality of life for residents and their significant others, and care that truly balances resident wishes and autonomy while ensuring safety, is the standard for nursing homes, government, and the broader community to work together to achieve." 
The committee called for: 
Immediate, consistent compliance with existing regulations for care planning. Care plans should: 

Include resident preferences, which should be obtained regularly and systematically. 
Focus on medical care needs and emphasize psychosocial, cultural/spiritual, and behavioral care, as well as physical care. 

Research and demonstration projects on effective, innovative care models. 
Strengthening preparedness for emergencies and natural disasters. 
Creation of smaller, more home-like settings of care to support more opportunities for social connection and engagement, strong infection control practices, and connection to clinical staff. 
Goal 2: A Well-Prepared, Empowered, and Appropriately Compensated Workforce 
"Workers in nursing homes, many who are nurses and nursing assistants, are often underappreciated, undercompensated, and underprepared for their roles in providing increasingly complex care," noted Jasmine Travers, PhD '16, an assistant professor at New York University's Rory Myers College of Nursing. "Decades of evidence support the need to enhance their training, salaries, and working conditions, yet little progress had been made to improve the quality of these jobs." 
The committee's workforce recommendations included: 
Increasing the number and qualifications of nearly all types of home care workers. 
Ensuring competitive wages and benefits, including health insurance, child care, and sick pay for all nursing home workers. 
Immediate implementation of higher staffing standards in nursing homes (including 24-hour presence of a registered nurse, as recommended in three previous Institute of Medicine studies). 
Empowering CNAs through career advancement, mentoring, free entry-level training, and more. 
Standardizing minimum education and competency requirements nationally. 
Goal 3: An Increase in Transparency and Accountability of Finances, Operations, Ownership
Goal 4: Creation of a Rational and Robust Financing System
"In 25 years of working on nursing home policy, I've continually heard from residents, their families, and their caregivers that this current model is not working effectively for them," said David Grabowski, PhD, a professor of health care policy at Harvard Medical School. "This report, we believe, provides a road map forward for the U.S. toward transforming the system." 
He added: "A key barrier to effective nursing home oversight has been a lack of transparency regarding nursing home finances, operations, and ownership." For example, data gathered by the federal Centers for Medicare and Medicaid Services (CMS) on ownership of nursing homes is incomplete, and there is little oversight of how nursing homes contract with related organizations for services, including management, nursing, or therapy, Grabowski said. 
The committee set forth these steps for achieving goals 3 and 4: 
Increased transparency and accountability to thoroughly evaluate how Medicare and Medicaid payments are spent and how ownership models and spending patterns impact quality of care. 
Collection and auditing of detailed, facility-level data on nursing home finances, operations, and ownership and public release of this data in real-time. 
Movement toward a federal long-term–care benefit by studying how it would be designed through testing of in-state demonstration projects before it is implemented nationwide. 
Use of detailed, accurate financial information to ensure that payments for comprehensive nursing home care are adequate. 
Designation of a specific share of Medicare and Medicaid payments for direct care, rather than non-care expenses such as lease payments. 
Extension of current bundled payment arrangements for short-stay, post-acute nursing home care to all conditions, with the goal of advancing value-based payments. 
Establishment of demonstration projects to explore alternative payment models for long-term nursing home care (separate from bundled short-stay payment initiatives). 
Goal 5: An Effective, Responsive System of Quality Assurance
Goal 6: Quality Measurement and Improvement
Despite the uniformity of federal standards for nursing home quality assurance (QA), there is variability in the implementation of routine inspections, imposition of sanctions, and investigation of complaints, said Marilyn Rantz, PhD, Curators' Professor Emerita at the University of Missouri's Sinclair School of Nursing. "The survey process often fails to identify serious care problems, to fully correct and prevent the recurrence of problems, and to investigate complaints in a timely manner," Rantz added. Evidence is "relatively modest," she said, for whether nursing home oversight and regulation can ensure a minimum standard of quality. "The regulatory model needs significant improvement." 
The committee's recommendations for achieving goals 5 and 6 included: 
Ensuring adequate resources for state survey agencies. 
Overseeing state survey performance. 
Developing and evaluating strategies to improve QA activities. 
Systematically collecting and reporting on Consumer Assessment of Healthcare Providers and Systems (CAHPS) measures. 
Reporting experiences of nursing home patients. 
Adding multiple measures to the CMS website Care Compare, including CAHPS measures of resident and family experiences. 
Development of an overall health equity strategy for nursing homes. 
Development of technical assistance programs at the state and local levels to build expertise and resources for effective quality improvement (QI). 
Goal 7: Adoption of Technology 
The seventh goal of adopting health information technology (HIT) in nursing homes is closely linked to QI and improved quality of care, noted Columbia Nursing's Gregory Alexander, PhD, the Helen Young CUPHSONAA Professor. "HIT can contribute to personalizing the care interventions of resident needs and desires in an efficient and accurate way," Alexander said. "Residents often have complex conditions that require care coordination across multiple settings, further underscoring the need for nursing homes to have electronic health records [EHRs] that communicate with other systems to ensure smooth, accurate transfer of clinical data and information between settings and safe care transitions." While the federal government has offered incentives to some health care professionals and hospitals to support the adoption of EHRs, Alexander noted, nursing homes have not been eligible for this support. 
Physical isolation due to the pandemic has vividly illustrated the difference that HIT can make for nursing home patients and their families and friends, he added. "Can you imagine how much better the experiences of isolation, loneliness, and dying with no family members to comfort you in your last days or hours could have been if all nursing homes had health information technology like other care settings? How much better the clinical care could be if all nursing home leaders and direct care staff have the information that can be readily compiled and easily reported for important health events like falls or urinary tract infections or upper respiratory tract infections or skin breakdowns or any other of a myriad of chronic conditions?" 
HIT can also allow nursing home leaders to identify and respond to underlying environmental or care conditions that contribute to health events, Alexander added, resulting in "real-time quality improvement facilitated by health information technology." 
The committee recommended: 
Identification of pathways to provide financial incentives to nursing homes for adoption of certified EHRs. 
Development and reporting of baseline measures of HIT adoption and interoperability (the ability to communicate with other EHRs). 
Training of nursing home leadership and staff in core HIT competencies. 
Conduct of ongoing studies evaluating the impact of HIT on resident outcomes, examining innovative uses of HIT, and evaluating disparities in HIT adoption across nursing homes. 
The pandemic's spotlight on poor nursing home conditions represents an unprecedented opportunity for change and innovation, Alexander said. "Implementing the committee's integrated set of recommendations will move the nation closer to making high-quality, person-centered, and equitable care a reality for all nursing home residents," he added. "The time to act is now."