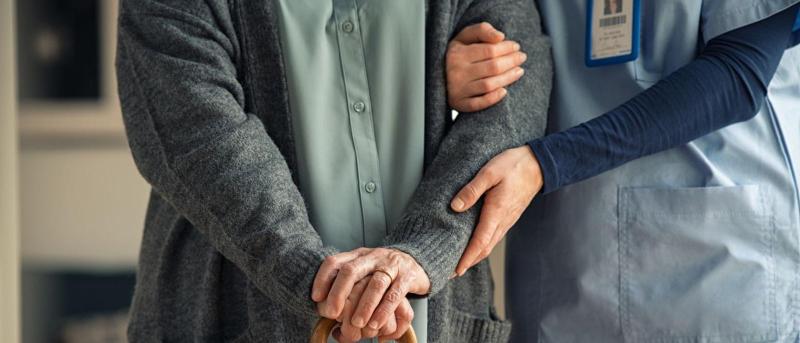 Supplement Outlines Action Plans for Improving Nursing Home Quality
Gregory Alexander, PhD, Helen Young CUPHSONAA Professor of Nursing, recently co-authored an editorial and manuscript in a special supplement to Public Policy & Aging Report (PP&AR) dedicated to taking action to transform nursing homes. 
Columbia Nursing alumna Jasmine Travers, PhD, is lead author of the editorial, titled "2022 NASEM Quality of Nursing Home Report: Moving Recommendations to Action." The supplement, funded by The John A. Hartford Foundation, was co-published in PP&AR and Journal of the American Geriatrics Society on February 8, 2023, and includes five articles and two editorials.  
Alexander and Travers were on the 17-member committee convened by the National Academy of Sciences, Engineering, and Medicine (NASEM) in 2020 to develop recommendations for improving nursing home care. The committee issued its report in 2022, setting out goals spanning care delivery, workforce, transparency and accountability, financing, quality assurance, quality measurement, and technology. 
"In the process of developing this report, the committee was asked to make bold and actionable recommendations that would transform care delivery and the nursing home environment for residents, families and staff," Travers, now an assistant professor at New York University's Rory Meyers College of Nursing, noted in a press release from The Gerontological Society of America, which publishes PP&AR. 
"Now that these recommendations are out in the public, this special issue is just one of many efforts the committee has undertaken to ensure that the recommendations don't just sit on the shelves of those who are going to be key to moving them into action," she added. 
Alexander is also conducting innovative research testing the potential of health information technology (HIT) to improve nursing home care. He and Lusine Poghosyan, PhD, Stone Foundation and Elise D. Fish Professor of Nursing and Professor of Health Policy and Management, recently received a $3.9 million award from the National Institute on Aging for their five-year study, "Impact of Nursing Home Leadership Environments and Health Information Technology on Outcomes of Residents with Alzheimer's and Related Dementias (ADRD)."