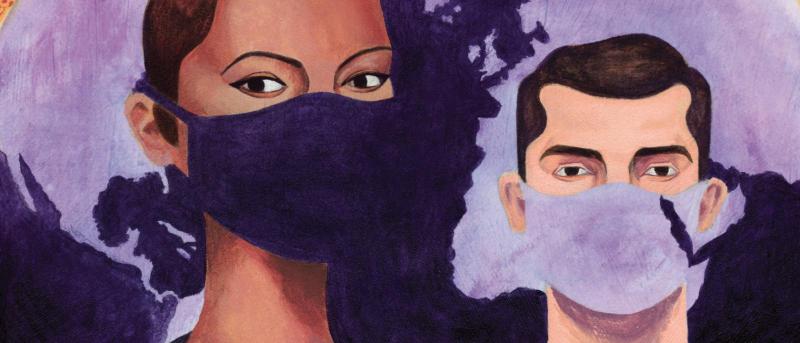 Toward a World of Justice
Columbia Nursing's Office of Global Initiatives Helps Develop Better Responses to Health Crises Around the Planet
When Florence Nightingale traveled from England to Turkey in 1854 to care for British soldiers wounded in the Crimean War—an expedition that marked the birth of modern nursing—the trip took two weeks by rail and steamship. The world has gotten a lot smaller since then. This year, after a deadly coronavirus epidemic emerged in China, the first American to be infected brought the pathogen home on a 14-hour flight. The disease was soon wreaking havoc on every continent but Antarctica. 
As humanity has grown more mobile and interconnected, public health crises have gained increasing impact. The two most striking examples of this trend involve infectious disease outbreaks and forced migration. In Nightingale's era, epidemics rarely spread beyond a small geographic area. The past two decades, by contrast, have seen half a dozen regional or global pandemics, including HIV, SARS, Ebola, and Zika; though COVID-19 is the most catastrophic plague in a century, a rival could appear any day. Likewise, the number of people displaced annually by wars, famines, or other disasters in the 1800s was in the tens of thousands; in 2019, according to the United Nations, the ranks of forced migrants surpassed 79 million. Whether the uprooted land on America's doorstep or in distant refugee camps, their plight fills news feeds—and fuels political conflict—around the planet.
Nurses have long served on the front lines of such emergencies. In recognition of that fact, the World Health Organization (WHO) has designated 2020—the 200th anniversary of Nightingale's birth—as the International Year of the Nurse and the Midwife. And Columbia Nursing's Office of Global Initiatives (OGI) is in the vanguard of the profession's response. "In crises like the current pandemic, nurses are crucial not only to patient care but to controlling the outbreak," says Jennifer Dohrn, DNP '05, the director of the OGI, the assistant dean for global initiatives, and an associate professor of nursing. "In forced migration crises, we do everything from treating malnutrition to providing family planning services to being the link between the community and government health officials. But to maximize our efficacy, it's vital to build the framework for a nursing response before the next crisis erupts. That's the OGI's mission." 
An Expansive Portfolio
The office oversees an expansive portfolio of efforts to facilitate education, research, clinical practice, leadership, and strategic partnerships that address global health disparities. "Our goal," Dohrn explains, "is to make a handprint on the way nursing approaches these issues, in terms of both clinical practice and public policy, and not just in other countries but within the U.S. as well."
One aspect of this enterprise is to encourage aspiring nurses to think—and act—globally. During their first semester, students in the Master's Direct Entry (MDE) program take a course called Global Health Equity and the Responsibility of the Nursing Profession. The curriculum presents global health as a social and racial justice issue and examines nursing's moral and ethical obligations to promote it. "From the beginning, our message is 'This is what we think you need to know while you're at Columbia,'" Dohrn says. This summer, she presented the course online due to the coronavirus lockdown, tracing the number of COVID-19 cases and deaths each week, globally and in United States. She led discussions on the protests touched off by the police killing of George Floyd and made connections between the Black Lives Matter movement and health care injustices in the U.S. and elsewhere. 
In previous years, MDE and Doctor of Nursing Practice (DNP) students have also had the opportunity to spend six weeks at one of Columbia Nursing's 18 global clinical sites, working in hospitals and community health centers, as well as conducting research. (This program, suspended in March, will resume when safety allows.) Students might join local nurses in caring for HIV patients at the Clínica de Familia in the Dominican Republic, or help administer vaccines in Malawi, or learn how single-payer health care functions at a cancer center in Spain. "In terms of global clinical experiences, we're the leading school in the country," says Dean Lorraine Frazier, PhD, noting that nearly half of the students in each class pursue that option before graduating.
In addition, the OGI coordinates partnerships with other Columbia institutions, as well as with international health officials and aid groups, to find ever more effective ways for nursing to help heal the world. 
Backstory of OGI's Director
To understand how all these pieces fit together, it helps to know the backstory of OGI's founding director. As a student at the University of Chicago in the late 1960s, Dohrn became an activist for women's rights and racial justice. After moving to New York and having her children under the care of a skilled midwife, she had an epiphany: Her calling was to bring such services to women in underserved populations. She earned a BSN at the City University Hunter-Bellevue School of Nursing, followed by an MS from Columbia Nursing's nurse-midwifery program. In 1988, she was hired to build a birthing center in the South Bronx. Dohrn spent more than a decade running the facility—the first of its kind in an innercity community—while juggling other positions. Her clientele was a rich blend of ethnicities and national origins: African-Americans; Latinas; and immigrants from every corner of Africa, Asia, and the Caribbean. "It was like a little international center," she recalls. "And all these women wanted to feel pride and dignity in the transforming experience of having a baby." 
In 1992, Dohrn returned to Columbia Nursing as a faculty member, later becoming director of nurse-midwifery. Then tragedy struck: Her husband, a civil rights lawyer who was helping Nelson Mandela write a new constitution, died in a car crash in South Africa.
Over the next few years, Dohrn watched with dismay as that country became the epicenter of the global HIV/AIDS pandemic. In 2003, she accompanied two doctor friends on a six-week working vacation and found herself assisting the head midwife in a Durban hospital. "I was just there to learn and see if I could be of use," she recalls. "The first week, they had me carrying urine samples and stapling charts." By the end of her stay, however, she'd helped reorganize the clinic to serve patients more efficiently, shortening wait times for exams and lab tests as HIV knowledge was integrated into prenatal care.
Dohrn made more consulting trips to South Africa and neighboring countries, while continuing her duties back home and earning a DNP at Columbia Nursing. Next came a stint as project director for the ICAP Global Nurse Capacity Building Program (the program, based at Columbia's Mailman School of Public Health, was originally known as the International Center for AIDS Care and Treatment but now goes by its acronym), through which she secured targeted grants to strengthen the development of HIV and primary-care nursing in 10 sub-Saharan countries.
These endeavors deepened Dohrn's already profound respect for her counterparts in other lands. "I saw nurses providing incredible care to AIDS patients before any medications were available, and often dying of the virus themselves," she says. "Then, after South Africa gave nurses the legal right to prescribe antiretroviral treatment for HIV, I saw mother-to-child transmission rates drop to less than 10 percent. Other factors played a role, but giving nurses and midwives the ability to manage HIV care was key to controlling the epidemic."
Coordination and Collaboration
In 2013, Columbia Nursing appointed Dohrn director of its new Office of Global Initiatives. Although the school had long been designated a WHO Collaborating Center (first for Nursing and Midwifery, later for Advanced Practice Nursing), its global work had lacked a coordinated strategy. The purpose of the OGI was to provide one. 
Dohrn took on that task with her usual energy. She launched collaborations with Columbia's schools of medicine, public health, and dentistry, as well as with the Columbia Global Centers—eight research and learning hubs operated by the university from Beijing to Rio de Janeiro. She began expanding the school's educational offerings in global health. She developed a plan to enhance the school's collaborations with WHO in the Pan-American region and recruited faculty to carry it out. And she imbued the school's global efforts with a philosophy born of her experience in communities from the South Bronx to Swaziland.
"Reciprocity is key," Dohrn explains. "Our relationship with frontline partners has to be equal, or it's not really a partnership. We're there to learn from them and to share our resources in a way that fits their objectives. Instead of telling them what to do, we need to ask them what they want and how we can help."
One example of this approach is a multischool project that aims to document and disseminate the experiences of nurses and midwives who battled the Ebola epidemic of 2014 to 2016. Led by Dohrn and sponsored by the Columbia University Center for the Study of Social Difference, in collaboration with WHO and various African health ministries, the project has multiple goals: to provide these workers with a safe and nonjudgmental space to record their stories; to gain an understanding of the trauma they endured and the lessons they learned; to honor their contributions; and to inform policies and protocols to deter, detect, and control future outbreaks.
In August 2019, the team spent a week collecting oral histories from 39 healthcare workers and officials in Liberia and Sierra Leone. "These nurses had a dedication that is almost unimaginable," Dohrn says. "Some of them slept in the hospital for a year, because their families were afraid of being infected. They all lost loved ones and coworkers. Many of them worked without pay the whole time."
Fonti Kargbo's story was typical. He and his wife, Hawa Kamara, were both nurses. When she began showing symptoms of Ebola after washing the body of a deceased patient in the epidemic's early days, Fonti took her to a local treatment center. The next morning, he found her lying naked and unconscious on the vomit-soaked floor. She died within two hours, and Fonti himself soon fell ill, as did all three of their children. Although he and one daughter survived, the others perished. He arrived at the interview wearing a T-shirt printed with the faces of Hawa and other nurses who sacrificed their lives.
Dohrn also tracked down the Sierra Leonean nurse whose tear-stained face, accompanying a 2014 newspaper article, first drew her attention to the Ebola crisis. Josephine Finda Sellu worked with the country's top infectious disease doctor, who died along with half the nurses in her hospital. "She's one of my heroes," says Dohrn, who shows that photo in classroom presentations. "Her family kept begging her to quit, but she refused. She said, 'This is where I need to be to serve my people.'" The two embraced when they met and both wept through much of their interview.
When COVID-19 travel restrictions are lifted, Dohrn and her colleagues plan to help organize an official day of recognition for these unheralded nurses and midwives—a step several interviewees sug-gested would be crucial to motivating nurses to show up for future epidemics. Later this year, the group will hold virtual public discussions and publish a white paper on their findings.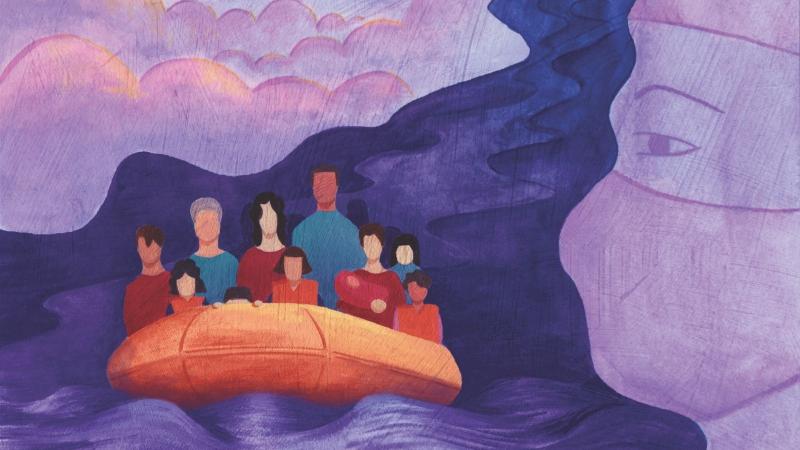 Listening to Local Experts
"Although with good intentions, often foreign experts would like to impose their views, but there is value in listening to local experts," says Annette Mwansa Nkowane, MA, BSN, a retired WHO technical officer in Zambia who is participating in the project. "Jennifer and her team are focused, but they listen. They want everybody to contribute. Your voice is important. That's crucial to solving issues like Ebola."
The oral histories have already had an impact on one Columbia MDE student, Maureen Saylor, MPH '19, who listened to the tapes while helping to audio correct and summarize the transcripts. "The MDE program is so fastpaced that it's easy to lose yourself in studying for the next test," says Saylor, who came to Columbia after spending two years in Botswana with the Peace Corps. "Being part of this project grounds everything I'm doing. It reminds me of why I wanted to come into this profession."
The OGI's work on forced migration is another place where Dohrn's handprint is visible. In 2018, Dohrn received a grant from the Columbia University President's Global Innovation Fund (PGIF) to develop a project with the Columbia Global Center in Amman, Jordan. After visiting one of the country's largest refugee camps, she learned that women who'd fled the civil war in Syria were experiencing a baby boom (a typical repercussion of war). "There's a big emphasis on family planning among aid groups," Dohrn recalls, "but no one was asking the women what they saw as their own reproductive health needs. You can make policy, but if the community you want to serve hasn't bought into it, it's not going to be implemented."
Dohrn and her collaborators (including Columbia Nursing Assistant Professor Caroline Sullivan, DNP, MS) worked with faculty at the University of Jordan School of Nursing, who interviewed over 500 refugee women about not only family planning, but also their overall health status and their experience with sexually transmitted diseases, breastfeeding, and domestic violence. When the study was completed, in 2019, the researchers held a dissemination meeting at the Global Center, attended by members of the Jordanian Health Ministry. The next day, they presented the initial results to 50 local nurses and midwives at a healthcare center serving refugees.
"One of the gaps in care the Syrian women pointed to was a need for more consistent breastfeeding support," Dohrn says. "They were being given formula, even though they preferred not to use it. It was exciting to see that we could help nurses and policymakers on the front lines of this crisis learn what could be done better." Other findings from the study are expected to be published this year.
The OGI has also convened three summits since 2015—one at the Columbia Global Center in Nairobi, the other two in Amman—bringing together nurses and midwives from across sub-Saharan Africa and the eastern Mediterranean region. At each one, improving care for forced migrant populations was high on the agenda. 
Crisis Close to Home
Migration cases can play out closer to home as well. Through the OGI, Columbia Nursing is collaborating with the schools of medicine and social work on the Interdisciplinary Refugee Health Project (IRHP), designed to help families recently granted asylum in New York City. "This population has specific health challenges related to what they've experienced in the countries they come from, such as torture and trauma," explains Assistant Professor Jeanne Churchill, DNP '10, the school's faculty liaison for the pilot project. "It's hard enough for people who were born here to navigate the healthcare system, but for these families, who may have language and cultural barriers, it can be even more difficult." The goal of the IRHP, launched last year, is to ensure that they get the care they need.
Five families—from Pakistan, Jamaica, Chad, Ivory Coast, and the Democratic Republic of the Congo—were chosen to participate by caseworkers with the International Rescue Committee. Each was assigned a team of three student aides, one from each participating school, who were selected through a competitive application process judged by faculty and student leaders. After an orientation meeting, the teams began conducting monthly home visits, using a language line for medical interpretation and consulting as needed with faculty members and caseworkers. 
"We've found that our families' needs are more basic than we expected," says MDE graduate and current DNP student Elizabeth Miller, MS '19, one of the student leaders helping to supervise the project. "It's not necessarily about seeing a doctor. They're concerned about 'How can I make sure I have enough food for next week? How can I make sure I have enough money to ride the subway to my job?' But those basic needs impact health as well." 
Miller spent six weeks during her MDE studies working at BelAir Hospital, the school's global site in India. "That made me very conscious of who has access to health care," she says. "New York has the best hospitals in the world, but if you don't know how to access the system, you might as well be living on the moon."
Another student leader on the project, DNP student Kelly Eng,  MS '19, worked at a Columbia Nursing global site in Ethiopia. "As I go through my education, I'm increasingly learning that global health is local," she says. "This project has shown me how much need there is right here, with people from all over the world bogged down in our healthcare system." 
Circles of Care
The COVID-19 crisis has thrown the connections between global and local health into even sharper relief. In March, as the pandemic reached New York City, the school canceled clinical rotations andmoved all classes online. Meanwhile, NewYork-Presbyterian Hospital issued an urgent call for nurses who'd left practice to return to patient care. After assessing her own health vulnerabilities, Dohrn sought an alternative outlet for her skills. "My son Amilcar said, 'Mom, you've got so much experience that no one else has had,'" she recalls. "'There must be ways you can share that to support this effort.'"
Indeed there were. Dohrn's work in African countries had taught her that one thing nurses desperately need during an epidemic—and too often don't receive—is emotional support. She'd also learned, in part from her own spiritual practices, that an effective way to provide such help is through so-called "circles of care": structured gatherings where anyone can speak, and everyone is expected to listen. Such circles, Dohrn believed, could help foster resilience and minimize burnout and longterm trauma as members of the Columbia Nursing community grappled with the impact of the coronavirus. To avoid the risk of contagion, she proposed holding the sessions via Zoom.
Dean Frazier, who had herself led healing circles at Commonweal in California and at the University of Texas Health Center at Houston, offered enthusiastic support for Dohrn's proposal and helped design a program aligned with the school's needs. Soon, Circles of Care were held every Wednesday and Thursday evening for faculty and students involved in clinical nursing; sessions for Advanced Clinical Management and Leadership students and for MDE students volunteering in the hospital as nursing techs began shortly afterward. 
Dohrn and Frazier initially facilitated the hourlong sessions, together or singly, but the circles proved so successful that other faculty members began to lead them as well. Although participants are encouraged to freely share their experiences and feelings, certain guidelines apply. After a moment of silence, those who wish to speak are asked to raise their hands. There's no cross talk or dialogue—instead, the group simply absorbs what each person has to say. To foster openness within the circle, participants agree to maintain confidentiality outside of it.
At a circle for clinical students and faculty in April, as cases overwhelmed the city's hospitals, the talk was raw and intense. The 44 attendees spoke of overwork, exhaustion, and isolation; of their con-cern for coworkers (one had to help intubate a colleague); and of their fears of falling ill or infecting their families. Some confided that the crisis was triggering flashbacks to prior traumas, such as 9/11 or the HIV pan-demic. Nurses who couldn't work on COVID units for health or other reasons described wrestling with guilt and shame. Others assured them there could be courage in staying home. Many participants shared their strategies for coping and self-care and celebrated the spirit of teamwork and solidarity that had emerged during the crisis.
In the months since then, New York has crushed its infection curve, though the situation elsewhere in America—and in some other countries—has grown more dire. Someday, no doubt, this pandemic will pass, but another public health crisis will surely take its place. And as long as such emergencies persist, Dohrn will have a driving purpose that in turn will serve as invaluable preparation for future nurses. "This work is my passion," she says. "It's been the basis of my per-sonal healing, and it's an honor to bring it out into the world."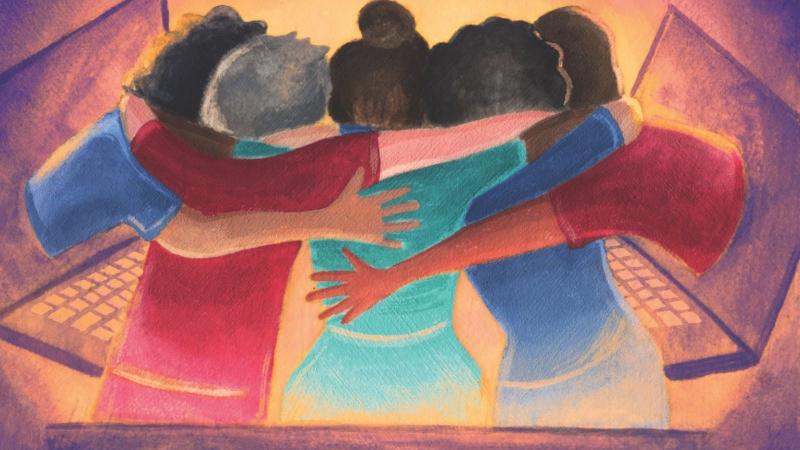 This article originally appeared in the Fall 2020 issue of Columbia Nursing magazine.