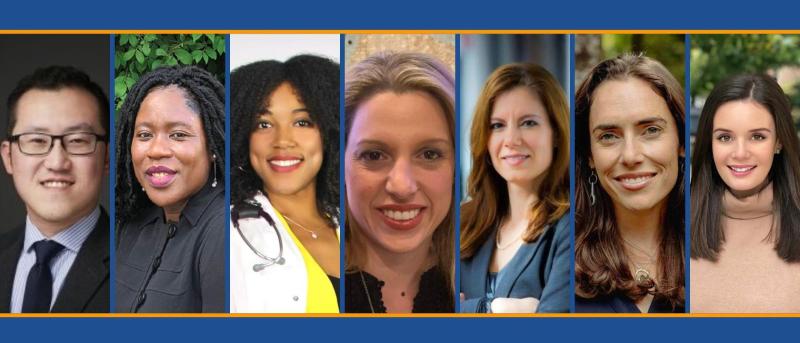 Columbia Nursing Welcomes New Faculty
We are honored to introduce eight of our new academic and research faculty, representing a broad spectrum of the profession and bringing an array of academic and research expertise.  
Academic 
Associate Professor Leon Chen, DNP 
AGACNP
Leon Chen, DNP, is a board-certified adult/gerontology acute care nurse practitioner (NP) with a background in critical care medicine. He holds specialty board certifications in both emergency and critical care nursing and is a strong proponent of utilizing point-of-care ultrasonography to rapidly delineate differential diagnoses and to guide resuscitation. He earned a certificate of completion in critical care ultrasonography from the American College of Chest Physicians and is active in critical care ultrasonography education.  
He has published over 30 peer-reviewed articles and book chapters and has been an invited speaker at national conferences on a variety of critical care topics. Chen serves on the editorial board of Critical Care Nursing Quarterly and the Journal of the American Association of Nurse Practitioners.  
For his contributions to the field of chest medicine, critical care medicine, and the nurse practitioner role, Chen has been designated as a fellow of the American College of Chest Physicians, the American Association of Nurse Practitioners, and the American College of Critical Care Medicine. 
Assistant Professor Caroline Handschuh, PhD 
MDE, Midwifery 
Caroline Handschuh, PhD, is a certified nurse midwife who has been in clinical practice in New York City for the past 12 years. Her clinical and research interests revolve around adolescent health as well as sexual and reproductive health.  
As a postdoctoral research associate at NYU College of Nursing, she collaborated with faculty with expertise in HIV behavioral health. Handschuh completed her PhD at Columbia Nursing, conducting her dissertation research on adolescent decision-making around sexual health.  
Prior to pursuing her doctorate, Handschuh provided prenatal, intrapartum, and postpartum care with a busy hospital practice in New York City. She is passionate about teaching and helping students on their own professional journeys. Her goals are focused on incorporating her research skills into her clinical approach to midwifery and teaching future nurses and midwives.   
Assistant Professor Marcia Robinson, DNP '10 
FNP
Marcia Robinson, DNP '10, has dedicated 16 years to advanced practice nursing, 12 spent working as a family nurse practitioner in Federally Qualified Health Centers in underserved communities in Westchester and the Bronx with a focus on management of HIV, hepatitis C, and drug addiction. She is also an adult/gerontology acute care NP. 
In 2010, she completed her DNP at Columbia Nursing and in 2017, her post-master's acute care certification at Pace University. She is currently employed as a cardiology NP in the cardiac intensive care unit at Columbia University Medical Center, while continuing outpatient work at a neurology practice in Westchester County.   
Her passion is to educate and provide care for people who are disadvantaged and underserved, and Robinson advocates for her patients and seeks to have them play an active role in their care. To accomplish these goals and work across disciplines, she is poised to obtain her Master's in Public Health from Columbia University in October 2022. 
Instructor in Clinical Nursing Malaika Miller, MS '16 
Midwifery 
An Afro-Caribbean Afro-Latinx licensed certified nurse midwife (CNM) of Panamanian and Jamaican descent, Malaika Miller, MS '16, was called to become a midwife after the birth of her godson, who was attended by a CNM in a hospital. She earned her MS and BSN from Columbia Nursing, along with a BS in child development with a minor in sociology from Vanderbilt University.  
Miller has been practicing as a full-scope midwife at NYC Health + Hospitals Jacobi Medical Center since 2016, serving on the OBGYN quality improvement committee at Jacobi, and holds a courtesy faculty appointment at Yale University School of Nursing.  
To reach more childbearing women in the communities of color that she serves, Miller began working as a per diem midwife on labor and delivery at Mount Sinai Hospital in Harlem in May 2021.  
"Over the years I have learned that, if we are intentional, we can work to combat the racial and ethnic disparities in maternal morbidity and mortality," Miller says. "This is my impetus for precepting and instructing midwifery students in the current Graduate Midwifery Program at Columbia. I am passionate about educating more culturally competent full-scope midwives in a continued effort to combat racial and ethnic disparities in women's health, specifically among Black and Hispanic women."  
Instructor in Clinical Nursing Antoinette Padula, MS '05  
Anesthesia 
Antoinette Padula, MS '05, has joined the faculty of the Nurse Anesthesia Program, after serving as an adjunct didactic instructor at Columbia Nursing since 2019. Prior to instructing nurse anesthesia residents, she was an assistant professor of surgery at the Frank H. Netter MD School of Medicine at Quinnipiac University in Connecticut.   
Padula's previous research focused on delivering health information about self-medication to older adults through touch-screen-equipped notebook computers. She is currently pursuing her DNP degree and is focusing her doctoral research on the lack of continuing education for emergency front-of-neck access for airway management emergencies. She hopes to integrate computer-assisted learning with her love of clinical teaching to provide certified registered nurse anesthetists and nurse anesthetist residents with a new and unique learning experience to perform cricothyrotomy procedures in emergency airway situations.  
Padula received her BS in nursing in 1999 from the University of Connecticut. She is a University of Connecticut Honors Scholar. She received her health care leadership certificate from Yale & Jefferson Universities in 2019.   
She currently works as an independent contractor providing anesthesia services to hospitals and surgical facilities throughout Connecticut and Massachusetts.   
Research 
Associate Professor Corina Lelutiu-Weinberger, PhD 
Corina Lelutiu-Weinberger, PhD, is a social psychologist by training and has developed several lines of research. Since 2009, she has served as principal investigator of eight National Institutes of Health-funded research studies and co-investigator on several others. Her programs of research aim to reduce health inequities, both in the U.S. and in low- and middle-income countries. Lelutiu-Weinberger creates, tests, and improves interventions that support racial/ethnic and sexual and gender minorities and health care systems by targeting sources of intersectional stigma and discrimination that fuel increased rates of HIV, substance use, poor mental health, and other co-morbidities among marginalized groups.   
Prior to joining Columbia Nursing, Lelutiu-Weinberger served as an associate professor at the Rutgers Biomedical and Health Sciences School of Nursing. In 2018, she was appointed Endowed Chair in Community Pediatric Nursing at the affiliated François-Xavier Bagnoud Center. She earned her PhD in social and personality psychology from the Graduate Center of the City University of New York, and both her master's and bachelor's degrees from Hunter College of the City University of New York. Besides her passion for her work, she loves astronomy, TRX, kayaking, and all things nature and animals, including reptiles. 
Professor Ruth Masterson Creber, PhD 
Ruth Masterson Creber, PhD, centers her research on improving quality of life, symptoms, and transitions of care for patients with advanced cardiac conditions. She is passionate about including women and marginalized groups in cardiac surgery trials, where they have been grossly underrepresented to date. 
She has been funded as principal investigator by multiple National Institutes of Health institutes and PCORI. Her current projects include a trial of a mobile integrated health intervention for patients with heart failure and pragmatic, cardiac surgery clinical trials across over 70 hospitals in Europe, Asia, North and South America to evaluate the impact of coronary bypass graft surgery on quality of life, symptoms, and cognition.  
Masterson Creber received her BA and BSN from the University of Pennsylvania School of Nursing and School of Arts and Sciences, an MSc in Epidemiology from The London School of Hygiene and Tropical Medicine, and a PhD from the University of Pennsylvania School of Nursing. She completed a postdoctoral fellowship at Columbia Nursing. Prior to joining the Columbia faculty, she served as an assistant and then associate professor of Population Health Sciences in the Division of Health Informatics, and Cardiothoracic Surgery at Weill Cornell Medicine.  
A dedicated mentor to PhD students, post-docs, and early career faculty, she also enjoys running, open water swimming, cycling, and hiking with her three sons and husband. 
Assistant Professor Meghan Reading Turchioe, PhD '18 
Meghan Reading Turchioe, PhD '18, brings a program of research focused on developing and implementing digital health technologies including mobile applications, wearable devices, and telehealth to support patient and clinician decision-making around chronic condition management, particularly cardiovascular diseases. She earned a PhD in nursing from Columbia University, an MPH from George Washington University, and her BSN from Boston College. She completed a postdoctoral fellowship in Health Informatics at Weill Cornell Medicine, where she also worked as an instructor.  
Turchioe's research is motivated by her experience as a cardiac nurse caring for a diverse patient population with multiple chronic conditions in New York City. A major focus of her work involves leveraging methods from data visualization, human factors, implementation science, and machine learning to produce insights from patient-generated health data and electronic health records, ultimately supporting patient decision-making. Her research is supported by multiple grants from the National Institutes of Health and industry.  
In 2019, she received the Dissertation Research Award, and in 2022 the Early Career Alumni Award, from Columbia University School of Nursing. She was recently named an Alliance for Nursing Informatics emerging leader. Turchioe serves on several committees through the American Heart Association (AHA) and American Medical Informatics Association, including the AHA National Atrial Fibrillation Systems of Care Advisory Group Commission.