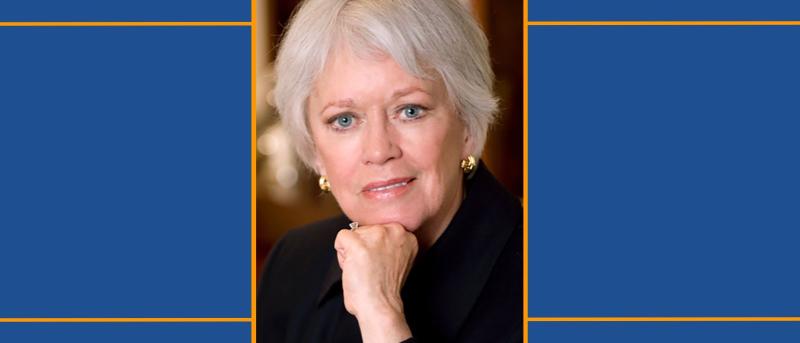 Mary Mundinger Named Living Legend
Mary O'Neil Mundinger, DrPH, dean emerita of Columbia School of Nursing, has been recognized as a Living Legend by the American Academy of Nursing. This honor is given to accomplished leaders and visionaries who have made outstanding contributions in improving health and advancing the nursing profession. Each year, the Academy bestows a select number of individuals with this distinction, its highest honor. Columbia Nursing Dean Emerita Bobbie Berkowitz, PhD, and Professor Emerita Elaine Larson, PhD, were named Living Legends in 2020 and 2017, respectively. 
The Academy highlighted her contributions extensively in its recent announcement about the award: "During her tenure at Columbia Nursing [between 1986 to 2010], Mundinger revitalized the nursing school and launched its Doctor of Nursing Practice program, establishing the first clinical nursing doctorate. Dr. Mundinger has shown relentless commitment to elevating the profession's status. One of her many pioneering publications showed that patient health outcomes were equivalent or better when receiving care from nurse practitioners versus physicians, paving the way for policy change. Building off this work, she founded the first nursing school faculty practice, Columbia Advanced Practice Nurse Associates, where nurse practitioners hold commercial managed care contracts and have the same compensation rate as primary care physicians. She has leveraged her expertise and amplified the voice of nursing through her service on numerous Boards of Directors for large healthcare companies and through federal advisory appointments such as the White House National Steering Committee on Health and the Special Medical Advisory Group to the Department of Veterans Affairs."
Within the Columbia Nursing community, Mundinger's contributions go even further: 
"Mary's numerous contributions to both Columbia Nursing and the nursing profession are impactful and enduring beyond measure. We could not be prouder of her achievements, including this most deserved honor," said Dean Lorraine Frazier, PhD.  
Recipients will be honored at the Academy's annual Health Policy Conference October 5-7, 2023. This year also marks a special milestone, with the Academy celebrating its 50th anniversary since its inception in 1973. 
Read the full press release here.