Scholarships and Grants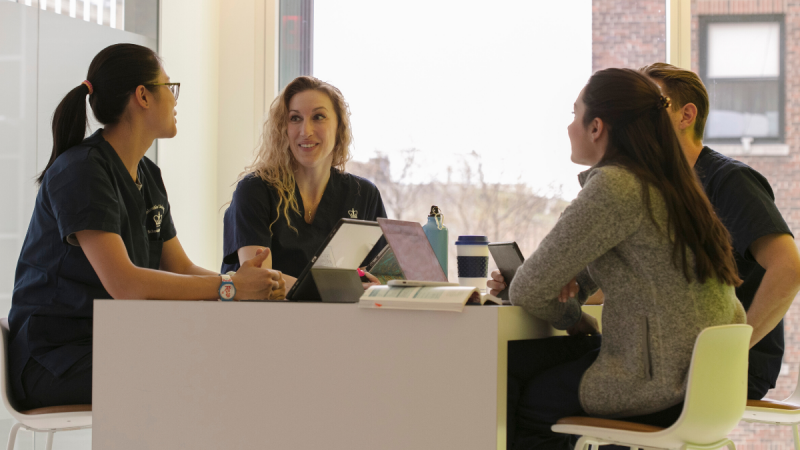 Columbia University School of Nursing is proud to offer approximately $10 million annually in fellowships and scholarships to our nursing students who demonstrate excellent academic achievement, financial need, and exceptional promise for leadership in nursing.
Scholarships, grants, and loans, are available to students to help finance their education at Columbia Nursing. Many students also receive tuition reimbursement from their employers while in school, and doctoral students can apply for teaching assistantships to supplement their educational costs. PhD students are fully funded for the first two years of their program.
All of our instituational aid is awarded during the Fall and Spring terms, and not during the Summer term.
Need-Based Aid
Need-based aid (scholarships or grants) are awarded on the basis of financial aid for the student as determined by the FAFSA. Aid received may change at any point during the academic year if a student no longer has financial need. The following criteria determine a change in financial aid:
Updated information on the Student Aid Report (SAR)
Changes in family contribution, external scholarships, or any changes in the student's enrollment
Significant changes are required to be reported immediately to the Office of Financial Aid. The following need-based scholarships are available:
iGrad
iGrad is an award- winning financial literacy app, available to all students for life. For more information, visit the Columbiaigrad website.
Interschool Fellowships
Interschool Fellowships are a form of institutional aid awarded by Columbia University. For more information, visit the Student Financial Services website.
Merit-Based Aid​
Merit-based aid (scholarships or grants) is awarded to students independently of their financial need. The following are merit-scholarships currently available to students:
The MDE Maxwell Honors Program scholarship is awarded to incoming MDE students based on the academic merit of their application. Students are selected for a scholarship during the admissions application process.
Students who apply to the MDE/DNP combined program and who continue seamlessly from the MDE to the DNP will be awarded a scholarship during the DNP program.
Assistantships are available to DNP and PhD students after their first semester of classes and MDE students after their first year of classes. Compensation is awarded in the form of tuition exemption. 
School-Based Loans
The Nurse Faculty Loan Program (NFLP) was created with the purpose to increase the number of qualified nursing faculty by providing loans to part-time and full-time students. Currently enrolled students in the Doctor of Nursing Practice (DNP) and PhD programs who desire a concentration in the academic educator field are eligible to apply. After graduation, 85% of the total NFLP loan is forgiven over a consecutive four-year period while loan recipients serve as full-time nurse faculty at a nursing school.
Enrolled students are notified by the Financial Aid Office every fall once the application is available.
To increase the diversity of the health professions workforce and the number of providers working in underserved communities, HRSA makes grant funding to schools, which in turn provide scholarships and low-interest loans to disadvantaged students with financial need.
The Nursing Student Loan program is one of these funding sources. It provides long-term, low-interest rate loans to full-time and half-time financially needy students pursuing a course of study leading to a diploma, associate, baccalaureate or graduate degree in nursing
Eligible enrolled students are notified by Financial Aid Office every fall once the application is available. Funding is limited and not guaranteed.
Aid for Veteran and Service Members
The Yellow Ribbon Program is an initiative authorized by the Veterans Educational Assistance Act of 2008 (the Post-9/11 GI Bill ®) in which educational institutions provide eligible student veterans with a tuition waiver or grant matched by the U.S. Department of Veteran Affairs. This program supplements the base educational benefits provided by the Post-9/11 GI Bill ®. Participation in this supplementary program is determined by Columbia's participating schools on a first-come, first-serve basis for up to $5,000, and is available only to enrolled students who meet the 100 percent entitlement according to their VA-issued Certificate of Eligibility.