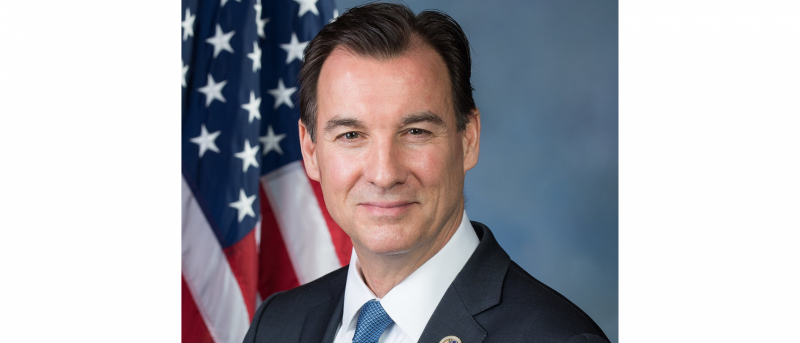 Rep. Suozzi Gives MDE Students Insider's View of Health Policy
Rep. Thomas Suozzi joined 144 Columbia Nursing graduate students via Zoom for their Health and Social Policy (HSP) class this semester, providing a real-world perspective on health care policy. 
Meeting with the congressman is an opportunity to "learn directly from the players about how policy happens and what the current issues are," said Lisa Iannacci-Manasia, MS, PNP '89, instructor, who teaches the Spring semester course with Adriana Arcia, PhD, RN, assistant professor of nursing. Getting this "insider's view" is a key aspect of building the competency and skills students need to engage in health policy, which is the objective of the HSP course, Iannacci-Manasia explained.  
"The moment is ripe for nurses to embrace the role of policy entrepreneur, translating knowledge, research, and practice into policy and connecting stakeholders through meaningful engagement," she added. "During the discussion, Congressman Suozzi extended an explicit invitation for nurses to act as consultants in his efforts to develop policies, for example for long-term care and for preventive services for children, youth, and families, as well as family-planning and reproductive health issues." 
Congresswoman Donna Shalala and Chelsea Clinton were the HSP class's first guest speakers last spring. Clinton will meet with students again this year. Illinois Congresswoman Lauren Underwood, who recently addressed nursing students, educators, and nursing professionals in a virtual event sponsored by Columbia Nursing and the University of Illinois College of Nursing, will also be a guest speaker this semester. 
Suozzi spent an hour with the class on January 26, responding to questions from students on issues ranging from health insurance and the Affordable Care Act to climate change and COVID-19 relief.    
Incivility in Politics a Major Challenge 
Suozzi's mother was an RN at Glen Cove Community Hospital in New York, Iannacci-Manasia noted in her introduction. Trained as an attorney and CPA, Suozzi served as mayor of Glen Cove from 1994-2001 and Nassau County Executive from 2002-2009. He has represented the 3rd District of New York since 2017, and currently serves on the House Ways and Means Committee. He also co-chairs the Labor Caucus and is vice chair of the bipartisan Problem Solvers Caucus. 
"It's important that you're paying attention to what's going on in the country. I was in the chambers of the House of Representatives when the insurrection took place; I was one of the last people to get out," he told students. 
"One of our challenges of this incivility in our politics, and all the hate and anger that exists and that was fostered by the former president, is that you can't solve the complicated problems that we face in our country unless people of good will can sit across from each other and try and find common ground on problems that we have," he added. 
And getting things done in politics was never easy to begin with, Suozzi said. "It takes a lot of work. I've been doing this off and on for 25 years. It's not an easy lifestyle, there's all kinds of controversy, people are second-guessing everything you say. It's hard to navigate the bureaucracy that exists." 
Three essential things must each be in place in order to achieve real change, according to Suozzi: doing the research and the thinking necessary to figure out what you want the change to look like; having the guts to stand up to the status quo; and knowing how to navigate the political and bureaucratic system in order to win. 
"If you want to change things, it takes time, it takes interest, it takes effort and attention to not let yourself be bamboozled by simplistic platitudes," Suozzi said. 
Following are some questions from the class, along with the congressman's responses. 
If there's one thing that you would like to have every advanced professional nurse know about health policy, what would that be? 
"We have to change the whole mind set to prevention, prevention, prevention, it's one of the most important things to do, and every health care professional should be involved in trying to change the whole ship of state and culture towards prevention," Suozzi said. 
There should be a much greater focus on children's health, he added, noting that responding to early signs of trouble by providing services to kids and their families can have powerful preventive effects. While schools are the best place to provide these services, according to Suozzi, they're overwhelmed, especially school districts with fewer resources and more at-risk students.  
"We have got to figure out how to change our whole society and take all the billions of, trillions of, dollars in programs that we have and figure out how to push them down to the youngest ages," he said. 
Prevention is also essential to help people live longer, healthier lives with less disability, which could ease the strain on already stressed systems for supporting the U.S.'s aging population, he noted. 
The congressman is drafting a bill to create a federal long-term care benefit, he added, noting that the U.S. population of seniors is "exploding," with 10,000 people turning 65 every day. "You can't put all those people in nursing homes, you can't put all those people on Medicaid, the system can't afford it; the quality of life won't be there," he said. "We have to set up a system where you can age at home and die at home with long-term care help."  
As a member of the powerful Ways and Means committee, what concrete/tangible steps is Congress taking to help reduce the student burden of higher education tuition cost or debt? 
Suozzi said he supports President Biden's plan to eliminate $10,000 per person of student debt. Some have suggested eliminating all student debt, which would cost more than $1.5 trillion, he noted. Biden's plan would cost $370 billion, he added, compared to $350 billion states are currently requesting to help pay for COVID-related costs. 
Relatively simple steps like reducing interest rates on loans and allowing people to refinance, especially given current ultra-low interest rates, make sense, Suozzi said. "There are all kinds of proposals out there to make the interest rates cheaper, which is something I still can't figure out why we can't get that done. It seems so commonsensical that you should be able to refinance your debt."  
Knowing that e-cigarette use is an epidemic among high-school and college-aged students, how can nurses and other healthcare providers can best support legislatures in tackling the aggressive marketing of these products to this population and further dispel the social allure of their use? 
New York City and other locations across the state saw "dramatic" reductions in smoking after they raised taxes on cigarettes while launching public education campaigns on the harms of smoking, Suozzi noted. He introduced two bills, the Protecting American Lungs Act of 2019, HR 4742, and the Quell Underage Inhaling of Toxic Substances Act of 2019, HR 4425,  to increase federal taxes on tobacco products and vaped nicotine products, respectively. 
Native Americans/Indigenous American veterans experience more health issues than other veterans. Compared with white male veterans, Native American veterans have higher rates of PTSD, depression and alcohol/drug use disorders. You are a member of the Military Mental Health Caucus: is there any legislation to address those issues? 
While it does not specifically address Native Americans or other groups, Suozzi said, he sponsored a bill to expand veterans' access to mental health care (the Commander John Scott Hannon Veterans Mental Health Care Improvement Act, Public Law 116-171, signed into law in October 2020). These services had been restricted to certain groups of veterans depending on where they served, whether they saw active duty, and other factors.  
Suozzi noted that 21 veterans die by suicide every day in the U.S. Any veteran experiencing a mental health crisis should be able to get help from the federal government without facing complicated eligibility requirements and red tape, he added. 
Drawing attention to mental health among veterans, could help reduce the stigma of mental illness and encourage more people to get help, Suozzi noted.  
"We need to create a better environment for mental health generally, for society as a whole," he said. "One out of five people in the country has a mental health issue, 75% of the people in jail have a drug, alcohol or mental health issue. Most of our society's ills are related to mental health, and veterans actually provide a great opportunity…to bring the mental health conversation to everybody in this country and make it much more acceptable and with less stigma to be someone with a mental health issue." 
Do you think the country should move closer to single-payer/government managed health care? 
Now isn't the time, according to Suozzi. "To try and go to single payer would require you to overcome the people that actually like their insurance." Out of 330 million people in the U.S., he said, 170 million have insurance from their employer, 100 million are on Medicaid or Medicare, 20 to 25 million purchase insurance on the individual marketplace, and 20 to 30 million have no insurance.  
President Biden's plan to reduce the age for Medicare eligibility and allow people to buy into the system would create a public option, Suozzi said, while subsidies could make the individual health insurance market more affordable.  
"That piecemeal approach that he has proposed is the way to go I believe," he added. "Biden's system is the best way of getting to our objective."  
It will also be important to figure out how to reduce health care costs overall and focus more on prevention, according to the congressman, but the country is "not there" in terms of a single-payer system "because of a lot of different historical factors and providing access and more affordable health insurance has got to be the goal."