Meet Our Students
Columbia Nursing PhD student enter the program from Bachelor of Science, Masters Direct Entry, and Master's programs.
Bachelor of Science to PhD:
The Columbia Nursing PhD program provided the foundation necessary for me to identify and refine my research topic.
Katherine Zheng, BSN, PhD '20
Accelerated degree/Master's Direct Entry (MDE) to PhD:
The program built on my prior MDE studies to give me the skills needed to approach health issues as a nurse researcher.
Meghan Murray, MPH, MS '16, PhD '19
Master's to PhD:
My mentor has been fundamental in guiding my training plan to achieve my career goals as a nurse researcher.
Anthony Pho, MSN, MPH, ANP-C, PhD '20
What it is like to be a PhD student at Columbia Nursing?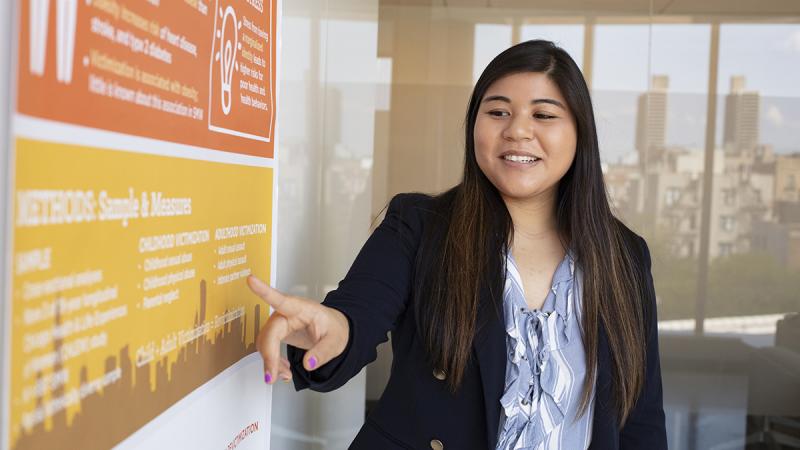 View Our Student Profiles
April Ancheta, BS, RN

April J. Ancheta, MPhil, BS, RN (pronouns: she/her/hers) is an NIH/NINR Ruth L. Kirschstein Predoctoral Research Fellow. She is also a previous Jonas-Blaustein Scholar and Mahoney Fellow in Health Policy. Her research interests are in LGBTQ adolescent health disparities, school health and education, public health, and health policy.

Faculty mentors: Tonda Hughes, PhD, RN, FAAN and Jean-Marie Bruzzese, PhD

Joseph Belloir, MSc, PMHNP-BC

Joseph Belloir, MSN, PMHNP-BC, is a nurse practitioner with experience in community psychiatry. His research interests include sexual and gender minorities, mental health, substance abuse, and health disparities.

Faculty mentor: Walter Bockting, PhD

Ani Bilazarian, BSN, RN

Ani Bilazarian, BSN, RN, is a Jonas Nurse Scholar. Ani's work focuses on reducing Emergency Department utilization in older adults with chronic conditions, the most complex and costly patient population in the U.S.

Faculty mentor: Lusine Poghosyan, PhD, RN

Christine DeForge, MSN, RN, CCRN

Christine DeForge, MSN, RN, CCRN was a 2017-2019 Academic-Practice Research fellow through Columbia Nursing and NewYork-Presyterian Hospital. Her research interests include ICU delirium and outcomes after critical illness for patients and families.

Faculty mentor: Eileen Carter, PhD, RN

Kylie Dougherty, BSN, RN

Kylie Dougherty, BSN, RN, has experience working as an international volunteer nurse in both Haiti and Honduras. Her research interests are maternal healthcare, global health, and access to healthcare. Kylie's work focuses on preventing preterm birth in developing countries.

Faculty Mentors: Elizabeth J. Corwin, PhD, RN, FAAN and Tonda L. Hughes, PhD, RN, FAAN

Leah Estrada, BSN, MA, RN, CPN

Leah Estrada, BSN, MA, RN, CPN, has experience in pediatric intensive care. Her research interest is palliative care health disparities in older adults.

Faculty mentor: Patricia Stone, PhD, RN, FAAN, CIC

Mollie Hobensack, BSN, RN

Mollie Hobensack, BSN, RN has experience working on a geriatric inpatient unit. Her research interests include the use of big data and informatics to improve geriatric outcomes.

Faculty mentor: Maxim Topaz, PhD, RN

Vaneh Hovsepian, MSN, RN

Vaneh Hovsepian, MSN, RN, completed the Columbia Nursing MDE program. Her research interests are focused on Alzheimer's Disease and Related Dementia (ADRD) care, quality care of older adults with multiple chronic conditions, primary care interventions, preventative care, health policy, and health disparities.

Faculty mentor: Lusine Poghosyan, PhD, RN

Betina Idnay, BSN, RN

Betina Idnay, BSN, RN, is a T32 pre-doctoral trainee for Reducing Health Disparities Through Informatics (RHeaDI) and an aging and dementia research nurse with experience in home health care. Her research interests include improving Alzheimer's disease and related dementia care, utilizing augmented intelligence in clinical trials, and reducing health disparities in clinical research.

Faculty mentor: Rebecca Schnall, PhD, RN

Chloe (Jung A) Kang, MSN, AGACNP-BC, AGCNS-BC, RN

Chloe (Jung A) Kang, MSN, AGACNP-BC, AGCNS-BC, RN has experience in critical care and oncology. Research interest includes infection prevention and control, end-of-life care, palliative care, and health care quality.

Faculty mentor: Patricia Stone, PhD, RN, FAAN, CIC

Mint Kueakomoldej, BSN, RN

Mint Kueakomoldej, BSN, RN, has previous experience in critical care and HIV/AIDS. Her research interest includes health services, workforce, and health policy in underserved areas. She is a Margaret E. Mahoney fellow in Health Policy.

Faculty mentor: Lusine Poghosyan, PhD, RN

Amy McMenamin, BSN, RN

Amy McMenamin, BSN, RN, is a Certified Emergency Nurse whose work focuses on health care policy and organizational structure.

Faculty mentor: Lusine Poghosyan, PhD, RN

Shazia Mitha, MSN, AG-ACNP-BC, RN

Shazia Mitha, MSN, AG-ACNP-BC, RN, is a RWJF Future of Nursing Scholar. Her research interests include the intersection of oncology and cardiology with a strong emphasis in symptom science, precision medicine, genomics and the use of big data and informatics to examine complex problems of the aging population. Her dissertation focuses on phenotyping cardiotoxicity in cancer patients using electronic health record and natural language processing.

Faculty mentors: Arlene Smaldone, PhD, CPNP-PC, CDE, FAAN and Maxim Topaz, PhD, RN

Jessica Schwartz, BSN, RN

Jessica Schwartz, BSN, RN, has experience working as a medical oncology nurse and an EHR analyst, both in the U.S. and the Middle East. Her research interests include clinical decision support, explainable artificial intelligence, documentation burden, and reducing health disparities through informatics.

Faculty mentor: Kenrick Cato, PhD, RN, CPHIMS, FAAN

Yashika Sharma, RN, MSN

Yashika Sharma, MSN, RN earned a Bachelor of Arts in Chemistry from University of Rochester and Masters of Science in Nursing from Columbia Nursing. Her research interests include sexual and gender minority health, intersectionality, and health inequities, in particular the effects of minority stressors on tobacco use among marginalized populations. Her research focuses on eliminating tobacco-related disparities in sexual and gender minority adults.

Faculty mentors: Tonda Hughes, PhD and Billy Caceres, PhD

Kodiak Soled, MSN, RN

Kodiak Soled, MSN, RN, is a Jonas-Blaustein Nurse Scholar. Her research interests include sexual and gender minority health, perinatal health, health inequities, queer theory, and emancipatory nursing praxis.

Faculty mentor: Walter Bockting, PhD

Katherine South, BSN, RN

Katherine South, BSN, RN, has experience in inpatient pediatrics. Her research interests are adolescents with chronic illness, treatment adherence, self-management, transition of care, and cystic fibrosis.

Faculty mentors: Maureen George, PhD, RN, AE-C, FAAN and Arlene Smaldone, PhD, CPNP-PC, CDE, FAAN

Brittany Taylor, BS, RN

Brittany Taylor, BS, RN is T32 predoctoral trainee for Reducing Health Disparities Through Informatics (RHeaDI). She has a prior BS in biomedical informatics and experience in med/surg, telemetry, and pediatric congregate care. Her research interests include genomics, data mining, and health disparities.

Faculty mentors: Kenrick Cato, PhD, RN, CPHIMS, FAAN and Jacquelyn Taylor, PhD, PNP-BC, FAHA, FAAN

Eleanor Turi, BSN, RN, CCRN

Eleanor Turi, BSN, RN, CCRN has experience in pediatric intensive care. Her research interests include pediatric and adolescent chronic illness, mental health, health disparities, and health policy.

Faculty mentors: Jean-Marie Bruzzese, PhD and Patricia Stone, PhD, RN, FAAN

Sarah Zollweg, BSN, RN

Sarah Zollweg, BSN, RN has experience in oncology, med/surg, dermatology, and health education. Her research focuses on social and structural determinants of sexual minority women's alcohol use. Her interests include health inequities, neighborhoods, housing and financial insecurity, and policy.

Faculty mentor: Tonda Hughes, PhD, RN, FAAN