Student Engagement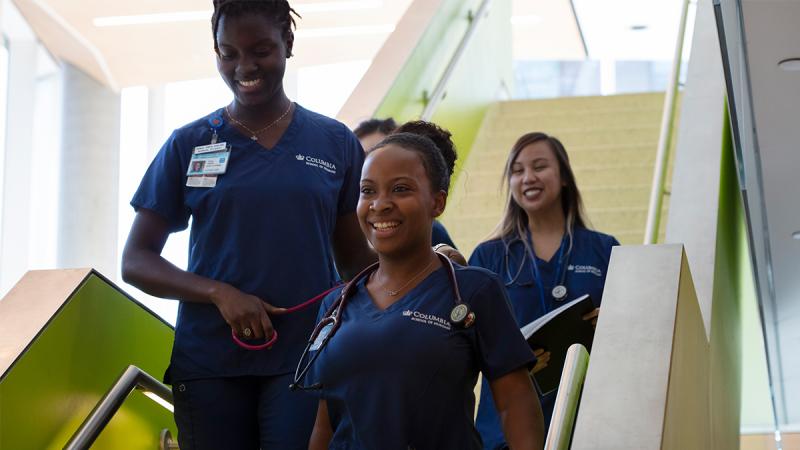 Get Involved on Campus
Columbia University School of Nursing provides diverse, exciting, and fun opportunities for student involvement through membership in organizations and mentorship opportunities.
Student Organizations
Our student organizations at Columbia Nursing enrich the educational experiences of our students and influence our larger university community. Below are our recognized student organizations:
A Day in the Life (ADITL) aims to educate nursing students on the plethora of specialties within the nursing field. By inviting currently employed nurses to share their stories, ADITL will provide students with a realistic snapshot of the typical day-to-day routine of nurses from different backgrounds.
Case Study Club (CSC) is an organization with the purpose of using unique case studies to enhance nursing education, think critically about real-world situations, and connect with peers and faculty.
Columbia Black Student Nurses promotes the diversity and advocacy of black student nurses at Columbia Nursing as they strive to become future nursing leaders.
Columbia University Men in Nursing aims to help shape the practice, education, research, and leadership for men in the nursing profession. They aim to work together with all nurses to strengthen and humanize health care, while they research, educate, and disseminate information about men's health issues and the nursing profession in general.
Affiliated with the National Student Nurses' Association, the Columbia Student Nurse Association chapter works to facilitate the transition from student to professional nurse through the development of leadership, innovation, and service.
Columbia Nursing's Doctoral Student Organization creates a community with our doctoral students in the DNP and PhD programs through networking, social, and educational activities.
The Columbia Nursing chapter of Nursing Students for Sexual Reproductive Health is dedicated to providing nursing students with the education, tools, and resources necessary to become social change agents within the health care system as it relates to sexual and reproductive justice.
Oncology Nursing of Columbia aims to deepen their understanding of oncology nursing through mentorship, collaboration with peers, service, and education.
Student Council
The Student Council at Columbia Nursing serves as the representative body of students and works to enhance students' experience and opportunities during their education at Columbia University School of Nursing.
Learn More About Student Council
Peer Mentorship Program
Our Peer Mentorship Program was created with the intention of building connections with fellow peers and future colleagues in nursing while helping new students manage the transition to Columbia Nursing in their first year. Our peer mentors are current students trained on the resources available to Columbia students. Whether you have questions on getting acclimated to the neighborhood, need tips on time management, or just want to talk and connect with a fellow student, a peer mentor can help and be a great resource.
Opportunities to join:
Become a peer mentor and be a resource for incoming students.
Become a peer leader and guide new peer mentors.
Join as a mentee and benefit from the connecting with a current student.